Recent Reads is where I talk about the last five books I finished reading that were not part of a specific tbr.
Sarah, Plain and Tall by Patricia MacLachlan
This is a book I read as a read aloud to my kindergartner. I gave it ✰4✰. It was a sweet story about a family that is looking for a new mother/wife. The father writes a letter looking for someone to come and fill the role. My daughter enjoyed it and I enjoyed it. Some of it was confusing for a 3.5 year old, but the silly moments made up for it. I had read this book as a child, but didn't know that there are more books in the series. I might have to order the others from our library and give them a try too.
Things I've Learned From the Homeless by Glen Dunzweiler
This was a book that I had for free on my Kindle. I needed something short to read the night I read this. I read it all in one sitting. It mostly made me sad. It also made me realize how much more he still didn't know in regards to a woman living on the street. I don't have any experience living on the street and I hope not to. This book didn't really teach me anything new, but it did make me think. I gave this book ✰4✰.
Nate the Great by Marjorie Weinman Sharmat
This book was another read aloud for my kindergartner. She loved this one and still talks about it weeks later. She was very excited to hear that there are more books in this series and we ordered some other ones from the library. She loved the pictures. She loved the story. It was a cute story about a little boy detective trying to help his friend find a lost picture. I gave this book ✰4✰ as well.
The Color Purple by Alice Walker
I decided to pick up The Color Purple for Banned Books Week. It was one that I had always meant to read and that was available on my libraries Overdrive collection. As I read this book I realized that I didn't know anything about the book. Like, at all. I thought it was a book about slavery from the perspective of a slave. I had no idea it was written in letters. A format I love. I didn't know the main character was a lesbian. Or how much this book was about religion. And just about women in general. I had trouble getting in to the story largely due to language, but after about 30 percent I was reading along just fine and enjoying it. So much anger and sadness, but also happiness and joy. I enjoyed the second story line quite a bit more. The main character's sister's story of her time in Africa as a missionary was interesting. I enjoyed the book overall and gave it ✰4✰. The language was honestly my only barrier. I have a lot of trouble with things that are not written in 'standard English'. My brain starts trying to decode the words and then make corrections instead of just enjoying the story. I'm very glad I read this book.
Mummies in the Morning by Mary Pope Osborne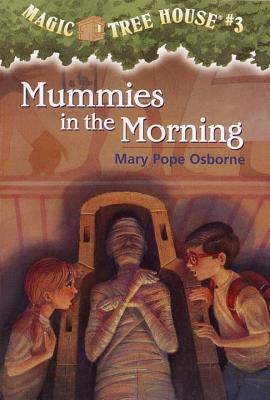 This is book three of The Magic Treehouse series. This was a read aloud for my kindergartner's homeschooling. We've read one other book in this series before. On this adventure Annie and Jack end up following a cat in to a pyramid and helping a ghost queen find her way to the afterlife. It was a fun story. My daughter loves the pictures in these books. She also does a great job of remembering what happened in these stories compared to some other ones. The stories are short and entertaining and educational. I gave this ✰3✰ as I do with most of the books we read for her schooling. She rates them higher. She gave ✰5✰ to this one on her book report. We'll probably read some more of these when we have a break in our read aloud schedule.
I'll be back (hopefully soon) with five more books I've finished. What have you finished recently?