This is a post about how my week of reading for the Get Graphic With It Readathon went.
October 1st
Today was a long day. Monday is errand day and I also had a lot of work to do. I haven't been sleeping well. About 4 hours a night in order to get up very early and start working until I go to bed that evening. I was working, so I didn't get to start my first graphic novel until late morning. I made it about 50 pages in to Husbands by the end of the night. It's funny and cute and I'm loving it. But I didn't get very far.
My husband on the other hand finished four of his graphic novels on the first day. And my step father happened to be over and he read six graphic novels while he was here.
October 2nd
Today I was up bright and early again to work. I didn't get any reading done all morning though. Just too busy with work and the kiddo. Hubby finished another graphic novel this morning.
I did finish Husbands by Brad Bell & Jane Espenson later in the day.
I really enjoyed this book. It was funny and cute and sweet. It was the book I most wanted to read in this readathon and I'm so glad I did. I gave it ✰4✰ only because I was confused about some of what was happening until I read the notes at the end. It was really fun though and I might have to try and watch some of the episodes since it seems this is a show. This was pick for the humorous book challenge and it fit the bill for me.
Next I moved on to Lumberjanes: Beware the Kitten Holy by Noelle Stevenson and others. This was my pick for reading a book from a host TBR.
I finished this one on day two as well. I gave it ✰4✰. And I ordered the second from my library. I really liked the art in this one and the friendships between the girls. I loved that they had to use math and anagrams to save themselves, but also had to use strength. I can see myself reading this with my daughter when she's a little bigger. I can't wait to continue with the series.
Next I picked up Seconds by Bryan Lee O'Malley. This was my choice for a book over 200 pages. It was past my usual bedtime when I started this book so I didn't make too much progress. But I did make it to page 38.
The hubby finished two more of his graphic novels this day. He had me order the next edition of Death Note for him so the first one must have been a hit. He did not recommend Ody-C though.
October 3rd
Today was another long, busy, working every second kind of a day. I was still working on Seconds. Enjoying it, but confused.
I finished it today and I gave it ✰5✰. It was really fun. I kept shaking my head each time Katie changed things again, but the ending felt really satisfying. I plan to read some other books my this author if possible.
October 4th
The next book I started (and finished) was The Gigantic Beard that Was Evil by Stephen Collins. This was my pick for the challenge to read a graphic novel in black and white. This book was about a place that we very orderly and tidy until one day Dave grows a giant beard and kind of destroys the peace.
It was okay. I liked the art. The story left me wanting more at the end. Things just didn't feel wrapped up and I didn't appreciate it. I gave it ✰3✰. I also had trouble with reading the words on some of the panels where the text was white on a gray background. That's certainly an issue with my eyes personally, but it didn't help with my overall impressions of the book.
The fifth book I picked up for the readathon was In Real Life by Cory Doctorow. This is the book I chose as a free choice option to bring my TBR to 10. I have had this book checked out multiple times and have never seemed to get to it though I've wanted to. This is about a girl who plays an online game and finds a boy in China that is illegally collecting valuable items in game and selling them IRL to live.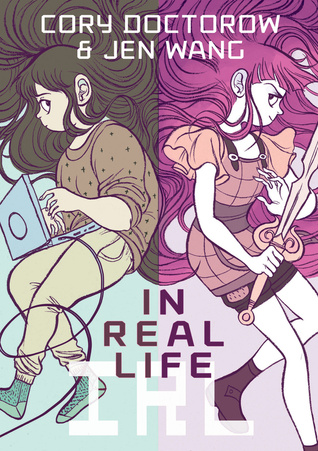 I loved this book. I gave it ✰5✰. It was a little unrealistic in my opinion. I can't fathom a teenager here making a big change in a China sweatshop, but maybe that speaks more to my jaded view of the world than about the book. I appreciated that the parents were being parents for Anda. Something that I think rarely happens in young adult. The ending made me happy and it felt like everyone had learned something. I'm so glad I finally read this book.
The next book on my readathon list is Cinderella, Volume 1: From Fabletown with Love by Chris Roberson. This was my choice for a graphic novel that takes place in another country. I only made it a few pages in though.
October 5th
This morning I picked up Adulthood is a Myth by Sarah Anderson before returning to Cinderella.
I read it in one sitting and gave it ✰4✰. It was great. I related to most of the comics and found the artwork and the main character endearing. I would love to read some more of this author's work.
Than I started Paper Girls Volume 2 by Brian K. Vaughan. This was my choice for a graphic with blue on the cover. I read volume 1 a week or so before and loved it. I was excited to start volume 2. I made it about a third of the way through.
This is the day my hubby finished his last book.A list of what he read and what he rated them is at the end of this post.
October 6th
I started the day with four more books to finish. Two had already been started. I decided to try and finish Paper Girls first.
I did end up finishing it today and I liked it even more than the first volume. I gave it ✰5✰. I can't wait to get the next one from the library to find out more of what is going on.
October 7th
The last day of the readathon and I still need to finish one book and start and finish two others. I decided to finish Cinderella first.
Cinderella was pretty good. I was never super excited to pick it up, but I enjoyed every minute when I was actually reading it. It was a whole lot of fun. A twist on the Cinderella character and story, making her a spy for a place where a bunch of fairy tale characters live. I could definitely read some other books in the series. I gave it ✰4✰.
Then I moved on to Ms Marvel Volume 1: No Normal by G. Willow Wilson.
I liked this one. Ms. Marvel is a character I literally knew nothing about before I read this book. She's pretty fun and pretty kick ass. It was a good one. I don't know that I will read the next one any time soon though. ✰3✰
The last book I needed to read for the readathon was Y: The Last Man Volume 1: Unmanned by Brian K Vaughan. And I was already half an hour past my usual bedtime when I started it. I was pretty nearly out of time, but only 130 pages away from my goal. I was at least going to try.
This was great! I love dystopians. And I loved the monkey named ampersand. As an English major the name stole my heart. The characters were likable, the story was engaging and I couldn't wait to see what would happen next. I immediately ordered the 2nd book from the library. I gave this book ✰5✰
And with that I finished all 10 of the books on my TBR. I won and I had about 2.5 hours to spare. What a great group of books too. I had four ✰5✰ books, five ✰4✰ books, and one ✰3✰. This readathon was a lot of fun, but I'm ready to get back to some of my regular novels. The last two days of the readathon had me ready to read anything without pictures for a little while. I can't wait to participate next time Get Graphic With It runs though.
How did you do? Did you succeed at reading 10 graphic novels this week?
Hubby's Reads and Ratings
Suicide Squad Volume 1, Kicked in the Teeth by Adam Glass ✰4✰
Alice in Sunderland by Bryan Talbot ✰3✰
Promethea: bk. 1 by Alan Moore ✰4✰
Death Note I by Tsugumi Ohba ✰5✰
Cinderella. From Fabletown with Love by Chris Roberson ✰3✰
Planetary: All Over the World, and Other Stories by Warren Ellis ✰4✰
Deadpool Vol. 1, Dead Presidents by Gerry Duggan ✰4✰
Ody-c Volume 1, Off to far Ithicaa by Matt Fraction ✰2✰
Everyone's a Aliebn When Ur a Aliebn Too: A Book by Jomny Sun ✰3✰
Wormwood Vol.1 by Ben Templesmith ✰3✰