Recent Reads is where I talk about the last five books I finished reading that were not part of a specific tbr.
Chew, Vol. 1: Taster's Choice by John Layman and Rob Guillory
This is a book I picked up through repeated recommendations from my husband. It is about a man named Tony that sees things about a food or meat when he eats them. He can see who harvested an apple or know things that a person experienced. It was gross. The story was good. I didn't get as nauseous as I expected to with people running around taking bites out of people and animals, both alive and dead. Overall though I gave this book ✰3✰. I don't plan to continue the series right now, but may in the future.
Paper Girls, Vol. 4 by Brian K Vaughan
Yet another amazing volume in this series. Finding out who the Grandfather was blew my mind a little. And I loved meeting the older version of Tiffany. I love how they tackle 'little' things like one member of the group being gay and the big things like saving time and getting back to life as they know it equally well. I adore these girls and the story and world they live in. It's hard to say much without spoilers for the first three volumes but I absolutely loved this and can't wait for the new book to come out. ✰5✰
Eat That Frog! 21 Great Ways to Stop Procrastinating and Get More Done in Less Time by Brian Tracy
I read this book for the Boho Berry Bookclub for October. It's a book I had meant to read for  years and never got around to it. It is broken up into 21 short sections of a few pages each that cover a different approach to improving productivity. Out of the 21 I marked five to look at again and try to implement. It wasn't a bad book, but it had a lot of things that I've either heard time and time again or that just don't apply to the life I have. Blocking out an hour of time to beat my head against one single project with absolutely no interruptions is an impossibility in my life right now. I'm a work at home mom to a three year old that needs my attention not quite constantly but very sporadically. I can hardly expect her to wait for a dry diaper or a kiss for a boo boo until my hour is over.
If you have a more traditional office job that doesn't require you to reply to emails and phone calls speedily and you don't read a lot of productivity or self help books you might get a lot of new to you advice out of this that can you help you. I will be going back to look at the few things I marked over the next few weeks and seeing if they help me to be more productive in the unusual job I have.  I gave this book ✰3✰
Lumberjanes, Vol. 2: Friendship to the Max by Noelle Stevenson and others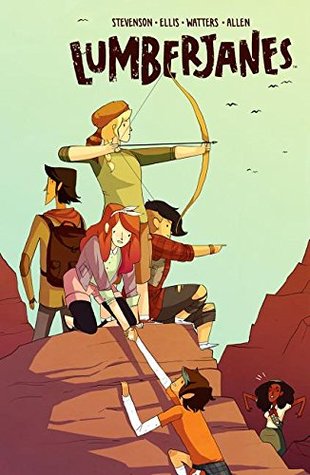 In this second volume we find out more about the crazy three eyed monsters in the woods around the camp. The second volume has a nice conclusion so I'm anxious to see  where the third book takes us. The cheek kiss of two characters made me giggle like a little girl at how sweet it was. I loved how Jen was helping in the action. Overall a great second book in the series. I gave it ✰5✰.
Junie B. Jones has a Peep in Her Pocket by Barbara Park
This was a homeschool kindergarten read aloud with my three and half year old. She absolutely adored it. She was laughing and having a great time every time we picked it up. And she gave it ✰5✰. I ultimately settled on a ✰4✰ rating. I used to love these books when I was in kindergarten and first grade. I read them hundreds of times and then my husband and I read them again as adults and loved them. Junie B is hysterical. Everything she says and does is funny, but everything she says and does is rude too. I didn't appreciate them as much as a parent due to the sass and snark that comes out of that little girl's mouth. I was worried about her being a bad influence on my daughter, but it ended up being a good discussion point for us as we read. She's already asking for her next book to be Junie B too!
I'll be back (hopefully soon) with five more books I've finished. What have you finished recently?