Recent Reads is where I talk about the last five books I finished reading that were not part of a specific tbr.
The Backstagers Volume Two by James Tynion IV
This is the second volume in the series. The colors and artwork are just as fantastic as the first volume. I didn't enjoy the story as much though. Five teenagers disappearing for two months? Every stage in the world leading to the same place? It might have all just been a bit too much odd for me. I gave this volume ✰3✰ and probably won't be continuing with the series right away.
In the Blink of an Eye by Jesse Blackadder
This is the first book I finished in 2019. I began it in 2018 though. What do you do with books you started in one year and finished in a new year? Add them to your read list for the year previous or the new year?
Anyway, this book, which comes out in March, is about a family of four. Finn, Bridget and their two sons. One son is 16 and one is a toddler. The toddler dies in a swimming pool early on in the book. The rest of the story deals with the grief and the aftermath for the other three members of the family that loved him so much. The chapters cycle through the perspectives of each of the three family members. I cried so often while reading this book and clung tighter to my daughter in relief that I was not going through this torture. The raw honesty of this novel made me feel so many emotions for these characters. I don't want to say I enjoyed this book of grief, but I could not put it down. I wanted to keep on reading to make sure they all pulled through and kept on living their lives, even though I don't know if I could in similar circumstances. I gave this book ✰4✰. There were just a few things in the story line that bothered me, but overall it was a fantastic story of love and of a family trying to stay together even when it's hard to want to or think you deserve the comfort of your loved ones.
Y: The Last Man, Vol. 4: Safeword by Brian K. Vaughan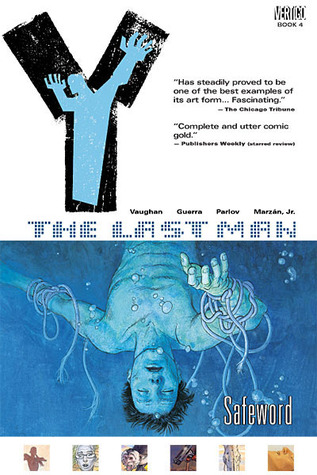 Book four of this series was way more adult than the other books. There were more pages I had to stop my daughter from looking at. Only one section really had the nudity. Maybe you gathered that from the title Safeword, but I did not. it was a great book though. The story continued to progress and to get more intense. There was still plenty of action and movement and character growth. Overall a great read. I gave this book ✰4✰ and ordered the 5th volume from my library.
The Princess in Black and the Perfect Princess Party by Shannon and Dean Hale
This is book two in the Princess In Black series and it is my favorite that we've read so far. Princess Magnolia is having a birthday party, but every time she tries to open her gifts the monster alarm goes off. It was funny and cute. The only real issue I had with it is that she lies to her friends so many times. It made my daughter very confused. She's been acting out the stories and is doing the things Princess Magnolia tells her friends she is doing and not what she is actually doing. We're working on using that as a teachable moment, but I still gave this book ✰5✰
The Princess in Black and the Hungry Bunny Horde by Shannon and Dean Hale
In this third book in the series Princess Magnolia is called to fight a monster instead of getting to go to brunch. They find a swarm of bunnies that are eating everything and it takes a while for them to figure out that they bunnies are dangerous, not just cute. I gave this book ✰5✰ as well and so far in the series this is my daughter's favorite book. She is having trouble grasping that the bunnies are bad news. She has been acting out all the stories and I only find her saying the Princess' lines about how cute the bunnies are instead of realizing they are menaces eating everything including the horn off of a goat. The series is great so far and I can't wait to read the next three books with my kiddo as soon as I am feeling well again.
What's the last book you read?