Recent Reads is where I talk about the last five books I finished reading that were not part of a specific tbr.
Cat Calls by Cynthia Leitich Smith
This is a short story that I had on my Kindle and decided to read as part of my clear our my kindle project. It is about a 16 year old girl that gets sent away to live with a grandmother she doesn't know after she hits puberty. It turns out she can see things in the crystal ball she is sure is an act her grandmother puts on at the fair and then she finds out something else about herself that you may be able to guess from the title. I enjoyed the writing and I enjoyed the story, but it was short and didn't leave me feeling satisfied, like I hadn't gotten a full story at all. It was good overall though and I gave it ✰4✰
Fairies of the Mississippi Deltaland by Jesse Beard
This is a short story that I won in a giveaway on Facebook. This is a story about Billy and Sandy, teenagers about to have a baby. They run away so that they can be together and raise their family. When their car breaks down and they enter the woods on the side of the road to get cool in the shade something magical happens. This was a sweet and sad story with a mostly happy ending. I would definitely like to read more works by this author. ✰5✰
Bird by Bird by Anne Lamott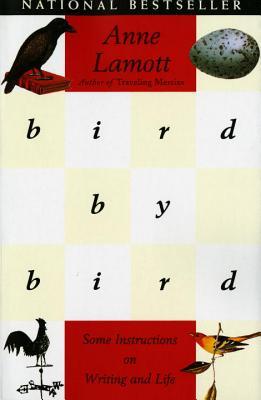 This book is about life just as much as it is about writing. Maybe more so. The author is brutally honest about how she looks at the world. How she is jealous of other writers when they have great days. How sometimes she wants to cut ties with people when they are succeeding more than she is and especially when they seem to be bragging about it. It struck me as petty at first, but also so logical. Why would you keep talking to and spending your time with people that only made you sad. She was a great advocate for her mental health and for everyone to do what is best for themselves. I enjoyed hearing about her parenting almost as much as I did about her writing lessons and practices. As far as the writing exercises themselves go, I love the idea of her one inch picture frame. Just write what you can see in a one inch frame and go from there. This is a book I will go back to again and again. I gave it ✰4✰
The Princess in Black Takes a Vacation by Shannon and Dean Hale
This is the fourth book in The Princess in Black series. I've been reading them with my three year old as read alouds and she and I are both loving them. In this book Princess Magnolia is tired from fighting a lot of monsters this week so The Goat Avenger offers to take over looking after the goats while she has a vacation. It doesn't go as planned however when a sea monster attacks. This book continues with the silly monster fighting adventures and is just as cute and silly and awesome as the three before it. ✰5✰
The Princess in Black and the Mysterious Playdate by Shannon and Dean Hale
In this fifth book of the Princess in Black series Princess Magnolia is going to have a playdate with her friend Princess Sneezewort. Unfortunately a monster follows her to the other kingdom and begins to try and eat people's pets in the park across the street. Princess Sneezewort decides to become the Princess in Blankets to try and save the day. The two girls work together and Sneezewort finds out what her special ninja skill is to help defeat the monster.
I adore this series. I love that we not only have Magnolia saving the day, but now we also have Sneezewort and Duff as superheros too. The little band of superheros defeating monsters is awesome and my daughter and I are loving every book in this series. ✰5✰
What's the last book you read?