Recent Reads is where I talk about the last five books I finished reading that were not part of a specific tbr.
And Every Morning the Way Home Gets Longer and Longer by Fredrik Backman
This book is only 76 pages and it was outstanding. I laughed a lot and I cried even more. I read it in one sitting. I can't wait to get my own copy so I can annotate it and write down all of my feelings in the margins. This book is about a man who is losing his memories and the son and grandson that are dealing with that alongside him. It was such a beautiful little book. I related to the little boy losing his grandfather and to the grandfather who had lost his wife at some point in the past and was slowly losing his memories of her too. This book was beautiful all around and I gave it ✰5✰
The Deal of a Lifetime by Fredrik Backman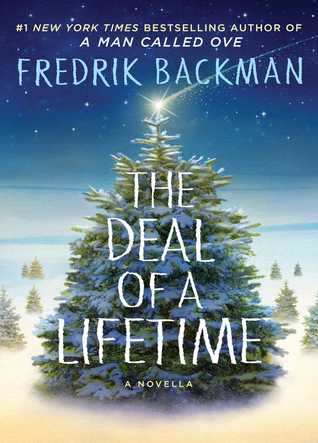 This is another short novella from this author. So far it was my least favorite. I didn't dislike it by any means, but it didn't hit me in the emotions like his other works have. I gave this book only ✰3✰ The book is a letter from a father to a son that he was never there for. He was a poor excuse for a human being that always chose money over people that loved him and he knows that. He tells his son about a dying little girl in a hospital nearby and how his life and death are intersecting with hers. It may be that this book was just too short for me to develop feelings for any of the characters, but I didn't laugh or cry once in the 65 pages that make up this very short book. The pictures were lovely, but didn't make me feel any more deeply about the story or characters. I'm  glad to have read it and plan to continue to read the rest of his works, but this was my least favorite so far.
In an Absent Dream by Seanan McGuire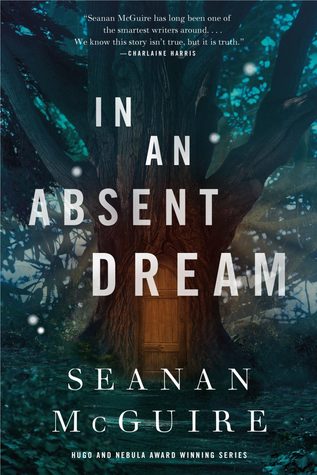 This is the fourth installment in the Wayward Children series and I've enjoyed each book in the series. This book is a prequel and follows Lundy, a character from the first book that is aging backwards and helps to run the school. This is the story of how she got in to that predicament. It was a sad story. I felt bad for Lundy through most of the book. The Goblin Market is another new and interesting world, but not one I would like to visit. I really dislike birds and they play a big part in this world. I can't wait for the next installment in this series. I gave this book ✰4✰
Below by Jason Chabot
This was a really good book. It is book one in a trilogy that I purchased cheaply from Book Outlet. It's a series I've never heard of and is apparently not very popular as it only has 35 reviews on Goodreads. We follow Elia and Hokk. Hokk lives on the wasteland of Below and was banished from his city for a fire he started so he lives on the outskirts with a pet fox. Elia lives on the islands of Above. Floating islands that are above the clouds that rain on Below. Elia falls from Above and lands with Hokk in Below and an adventure ensues. The story is really interesting because Below and Above have each been told different origin stories about how the two places came to be. Elia has never seen rain, Hokk has never seen the sun or moon. By the end of this story the islands of Above are falling close enough to Below that they are scraping buildings from the city. I'm hoping to read book 2 soon, but have a few other obligatory reads I have to finish up first. I gave this book ✰4✰. The only reason it didn't get five is because it seemed to take forever to get through a page. The story was engaging and I cared about the characters, but the book felt much longer than it's 312 pages and I was frustrated at the lack of progress I was making.
Any Man by Amber Tamblyn
This book is about a female serial rapist. It is told largely from the perspective of her five (or six?) victims that have spoken out by the end of the book. It turns rape culture on it's head by making the perpetrator female and the victims male. It was heartbreaking to see how they were treated and criminalized themselves. I thought I would feel less pity for them as men, but the treatment of the rape victims is horrible regardless of gender. I couldn't put this book down. The unique format pulled me in instantly and I couldn't stop reading until I was finished with the book. There are tweets, journal entries, radio show call ins, chat messages, poetry, and more. I hate to say I enjoyed reading a book about rape, but it was certainly unputdownable for me. I gave it ✰4✰